Anyone who has eaten at Cava Bien Marché will say in unison: Chef Sebastian's food is delicious, easy to understand, accessible, but can't be cooked at home. Today, let's get to know Chef Sebastian better.
Chef Sebastian started his culinary career at the age of 16 because of his course in France, if you're late, you have to start at a very young age. Starting from the apprenticeship from cutting vegetables to washing dishes until becoming an executive chef, the path is not sprinkled with rose petals. Because France attaches great importance to this profession. A celebrity chef is also a very prestigious and influential profession.
He first trained from a master chef in his hometown of St. Jean de luz, a seaside town in southwestern France, until his career flourished in Paris. He is the right-hand man of the famous Chef Yves Gudebord. and later entrusted to be the head chef at the most luxurious Michelin restaurant in Bordeaux, and in this city is the place where true love is found. So I carried clothes and fled with Thai women to live in Thailand for over 5 years.
Chef Sebastian's style of cooking Behind the scenes, it has to use advanced techniques of fine dining, but it creates delicious, easy-to-understand, uncomplicated bistro style.
The origin of this style of food is Chef Yves Camdeborde, famous chef michelin star, master chef jury of France, and also our master chef Sebastian. Because Chef Yves gumderboard I want the food to be elaborate, fine cuisine, to be served and reorganized at a reasonable price and a more friendly atmosphere.
The "Bistronomy" style has become popular all the time. And with this culinary trend, chefs don't have to worry about the tricky rules to become a Michelin star and have time to create heart-warming dishes and create informal experiences with their diners. which makes it closer It's not tight and much cuter.
Start the first job of Chef Sebastian. Despite not being able to speak English, Mr. Suthep Thaugsuban trusted and gave the chef an opportunity to work closely at the pacific club, a private club open only to members and high-ranking officials only. Than Suthep even hired an interpreter to join the chef. After that, he became the head chef at Scarlett wine bar & restaurant at Pullman G silom and Belga rooftop bar & brasserie @sofitel Sukhumvit respectively and before coming to çava bien marché, head. Chef of Cocotte, the most famous French restaurant of all time.
Chef Sebastian's cooking style It may be called Bistronomy, which is different from Gastronomy. It is delicious food that is easy to understand. However, various methods and techniques require professional and advanced knowledge to cook.
And with this character, it is the main concept of shop design to be easy to understand. It's like a pretty accessible market. but hides the magic of the alchemy in the French style The memory of formal and elegant French cuisine will be reinterpreted. In a way that is a refined way of eating, but does not require much formalities.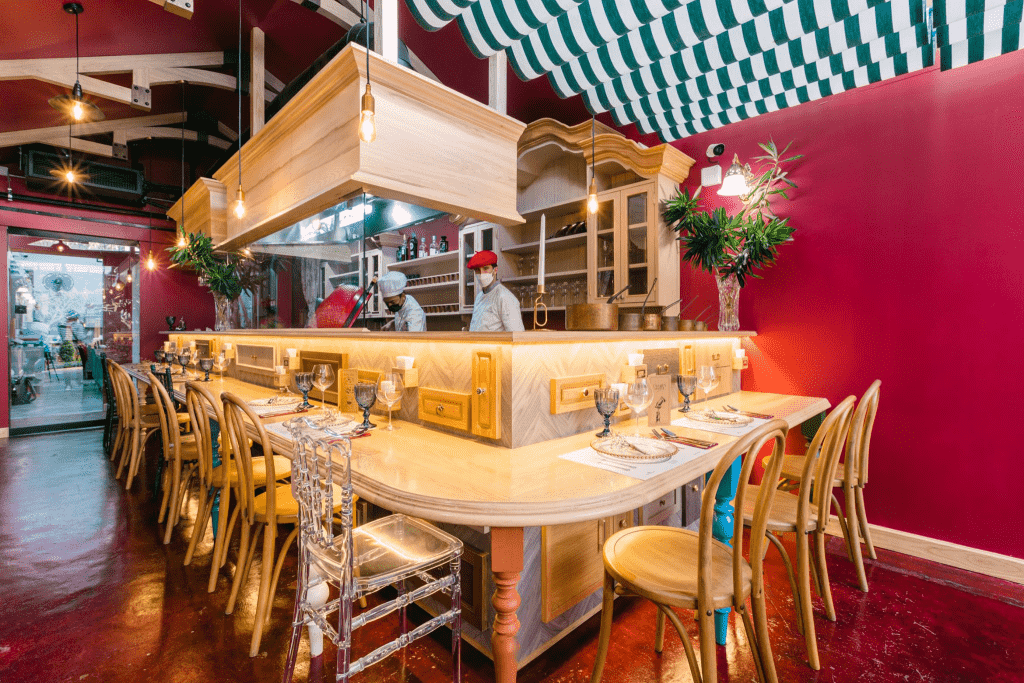 This speciality is thus conveyed in the form of a replica of the shop as a market, or marché, and when walking through the beautiful garden to the end of the alley, you will find the chef's bar. It's like eating in the chef's own home.
When getting to know Chef Sebastian If you want to experience for yourself, you can come to taste French food that is easy to understand, pleasing to Thai people, but the way to do it is complicated and meticulous with Cava Bien Marché.